Changes of chromium fog inhibitors


3M company developed perfluorooctyl sulfonate (PFOS, trade name fluorad) as chromium fog inhibitor after commercializing Simons electrochemical fluorination method in 1950s. In particular, FC-95 and FC-98 surfactants have good chemical stability and surface activity in acidic medium. When they are used in chromium plating bath, they can form stable bubble blanket on the liquid surface, so as to reduce chromium mist and discharge, The chemical components of the above two products of 3M company are potassium perfluorooctanesulfonate (PFOS) and potassium perfluorobutylsulfonate (PFBs). Potassium perfluorooctanesulfonate is widely used because of its excellent surface activity.


In 1975, Bayer company of Germany developed tetraethyl ammonium perfluorooctyl sulfonate (FC-248) with PFOS as raw material. This kind of quaternary ammonium salt has more surface activity than traditional sulfonic PFOS.


In 2009, PFOS compounds were added into the Stockholm Convention and identified as persistent organic pollutants.
Emmett of Germany and DuPont of the United States launched the latest PFOS free environment-friendly chromium fog inhibitor TDFS(TDFS is perfluorohexyl ethyl sulfonic acid).


The abbreviations and chemical structures of several chromium fog inhibitors are shown in the figure below.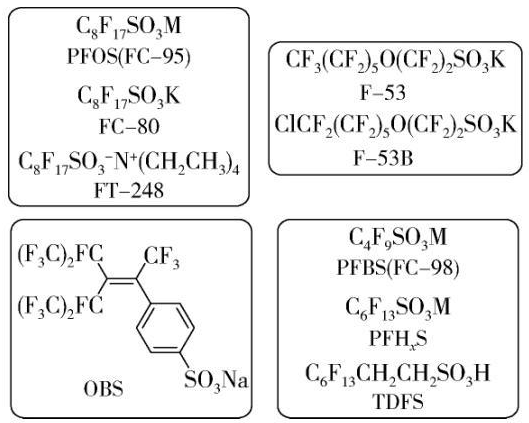 We can provide Fluorochrome fog inhibitor:
perfluorohexyl ethyl sulfonic acid(CAS No.27619-97-2)
Contact us:
E-mail:info@brightchemical.com.cn